Planning a trip to the captivating coastal paradise of Tulum? Wondering what to wear to embody the perfect blend of style and comfort? Look no further! Discover the ultimate guide for men's fashion in Tulum and unlock a world of sartorial possibilities. Embrace the effortless elegance of this tropical haven by donning breezy linen shirts, lightweight shorts, and comfortable sandals. Show off your dapper side with tailored swim trunks in vibrant colors or trendy patterns that mirror the vibrant surroundings of Tulum's pristine beaches. Complete your ensemble with a stylish straw hat, trendy sunglasses, and a versatile beach bag to carry your essentials. Whether you're exploring the ancient Mayan ruins, indulging in the vibrant nightlife, or simply lounging by the crystal-clear cenotes, this guide will ensure you exude confidence and style at every turn. So, pack your bags and immerse yourself in the unforgettable fashion scene of Tulum. Let your wardrobe reflect the laid-back luxury, and become a trendsetter in this idyllic Mexican paradise. Start curating your Tulum-inspired outfits today and embark on a fashion-forward journey that will make heads turn with envy.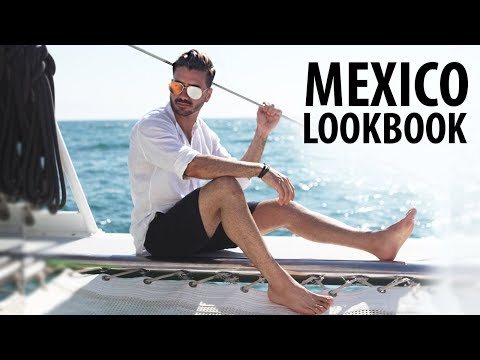 What to Wear in Tulum – Men's Fashion Guide
| Occasion | Outfit | Key Details |
| --- | --- | --- |
| Beach Day | Board shorts or swim trunks, linen shirt, flip flops | Opt for lightweight and breathable fabrics to keep cool. Choose bright and tropical patterns to embrace the beach vibes. |
| Exploring Mayan Ruins | Lightweight pants, short-sleeve button-down shirt, comfortable walking shoes | Protect yourself from the sun while maintaining a stylish look. Opt for earthy tones or subtle patterns to blend with the ancient surroundings. |
| Evening Dining | Linen pants, button-down shirt, leather sandals | Embrace the relaxed Tulum ambiance with casual yet refined attire. Linen pants offer a sophisticated touch, while leather sandals add a touch of bohemian style. |
| Nightlife | Tropical-printed shirt, tailored shorts, loafers | For a vibrant and stylish night out, embrace the tropical patterns that Tulum is known for. Pair them with tailored shorts and comfortable loafers for a refined look. |
| Daytime Excursions | Lightweight shorts, polo shirt, sport sandals | Stay comfortable during adventurous activities with breathable shorts and a classic polo shirt. Opt for sport sandals for ultimate versatility and ease of movement. |
As an expert on men's fashion in Tulum, it is crucial to consider the climate and unique cultural atmosphere of this stunning destination. Tulum's beautiful beaches, ancient ruins, and vibrant nightlife demand a wardrobe that effortlessly blends style, comfort, and practicality. Whether you're lounging by the ocean, exploring historical sites, enjoying fine dining, or immersing yourself in the local nightlife, this fashion guide will ensure you look like a true Tulum aficionado while staying comfortable and fashionable.
"Effortlessly Stylish: Men's Vacation Outfit Inspiration in Mexico with Alex Costa"
Tulum Men's Fashion: What to Wear in Paradise
If you're planning a trip to the stunning beachside town of Tulum, Mexico, you're in for a treat. With its breathtaking white sand beaches, crystal-clear turquoise waters, and vibrant culture, Tulum is a tropical paradise that attracts visitors from all over the world. As you pack your bags, it's important to consider what to wear in Tulum to ensure you're both stylish and comfortable in this idyllic setting. Here are some essential fashion tips for men to rock that Tulum look.
1. Embrace the Lightweight Fabrics
When it comes to dressing for the Tulum heat, lightweight fabrics are your best friend. Opt for breathable linen shirts and shorts to keep cool and comfortable throughout the day. Linen is a natural fabric that allows air to circulate, making it perfect for the tropical climate. Pair your linen pieces with a wide-brimmed straw hat and sunglasses to complete the laid-back beach look.
2. Dive into Tropical Prints
Tulum's vibrant and bohemian atmosphere calls for bold and playful prints. Don't be afraid to experiment with tropical patterns such as palm leaves, floral motifs, or even animal prints. Incorporate these prints into your wardrobe through shorts, shirts, or even swim trunks. Embracing these colorful patterns will help you blend in with the vibrant surroundings of Tulum.
3. Opt for Light Colors
In a place as sunny and warm as Tulum, it's best to stick to light and airy colors. Light shades of blue, white, beige, and pastels are excellent choices as they reflect sunlight and help keep you cool. These colors also evoke a sense of tranquility and relaxation, perfectly aligning with the laid-back vibe of Tulum. Mix and match light-colored pieces to create effortless and stylish outfits.
4. Embrace the Boho Style
Tulum is known for its bohemian and eclectic style, so why not embrace it? Incorporate boho-inspired pieces into your Tulum wardrobe to truly immerse yourself in the local fashion scene. Think loose-fitting linen shirts, embroidered details, woven accessories, and leather sandals. By embracing the boho style, you'll not only look fashionable but also pay homage to the unique cultural heritage of Tulum.
5. Don't Forget the Swimwear
With its stunning beaches and cenotes, Tulum offers plenty of opportunities for swimming and sunbathing. Make sure to pack stylish and comfortable swim trunks that reflect your personal style. Whether you prefer bold and vibrant colors or classic and understated designs, there's a wide range of swimwear options to choose from. Remember to prioritize comfort and durability, allowing you to fully enjoy Tulum's aquatic wonders.
As you prepare for your Tulum adventure, keep these fashion tips in mind. By embracing lightweight fabrics, tropical prints, light colors, the boho style, and stylish swimwear, you'll not only look your best but also feel confident as you explore all that Tulum has to offer. So pack your bags and get ready to soak up the sun in this Mexican paradise!
What to Wear in Tulum (Men's)
Lightweight and breathable shirts
Shorts made of quick-drying material
Swim trunks or board shorts
Lightweight pants or jeans for cool evenings
Sun hat or cap to protect from the sun
Sunglasses with UV protection
Comfortable sandals or flip-flops
Water shoes for exploring cenotes or rocky areas
Lightweight and breathable shoes for walking or hiking
Lightweight rain jacket or windbreaker
Casual shirts for evenings out
Beach towel or sarong
Reef-safe sunscreen
Bug spray to protect against mosquitoes
Backpack or tote bag for daily essentials
Reusable water bottle
Camera or smartphone for capturing memories
Snorkel gear for underwater adventures
Frequently Asked Questions
What should men wear in Tulum?
Men should wear lightweight and breathable clothing in Tulum due to the hot and humid weather. Opt for linen or cotton shirts, shorts or lightweight pants, and comfortable footwear such as sandals or sneakers. Don't forget to bring a hat and sunglasses to protect yourself from the sun. Additionally, it's recommended to pack swimwear and beach essentials for enjoying the beautiful beaches of Tulum.
Are there any dress codes in Tulum?
Tulum is a relaxed and casual destination, so there are no strict dress codes. However, it's important to respect the local culture and customs. Avoid wearing revealing or offensive clothing when visiting sacred sites or entering local establishments. Additionally, some upscale restaurants and clubs may require a smart casual dress code, so it's advisable to pack a few slightly dressier outfits just in case.
What should men wear at night in Tulum?
Tulum has a vibrant nightlife scene with beach clubs and bars. For a night out in Tulum, men can opt for a more stylish and trendy look. Consider wearing light-colored linen or cotton shirts paired with tailored shorts or pants. You can also add accessories like a stylish watch or bracelet to elevate your look. Don't forget to wear comfortable footwear as you might be walking on sandy paths or dancing the night away on the beach.