Looking for the perfect outfit inspiration for Scottsdale? Look no further! Discover the ultimate fashion guide for this vibrant desert oasis. From trendy poolside ensembles to chic evening attire, we've got you covered. With its year-round sunny climate, Scottsdale calls for stylish and comfortable clothing that effortlessly blends fashion and function. Whether you're exploring the stunning landscapes, indulging in upscale shopping, or enjoying the vibrant nightlife, our curated selection of on-trend outfits will ensure you look and feel your best in this stylish Arizona city. From flowy sundresses and floppy hats for daytime adventures to sleek cocktail dresses and statement accessories for evenings out, we've got the perfect ensemble for every occasion. Don't forget to pack your sunglasses and sunscreen as you navigate the bustling streets, and be prepared to turn heads with your impeccable style. So, get ready to make a fashion statement and embrace the desert vibes with our ultimate fashion guide for Scottsdale.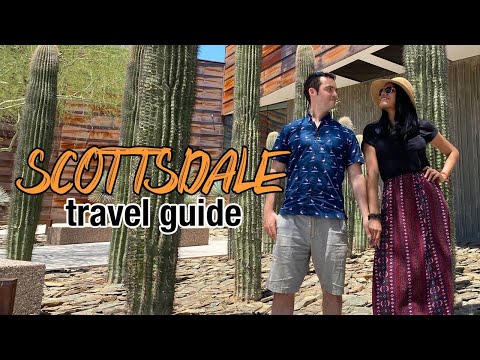 What to Wear in Scottsdale
| Season | Attire | Additional Tips |
| --- | --- | --- |
| Spring | Lightweight clothing, such as breathable fabrics, shorts, sundresses, and t-shirts. Don't forget a light jacket for cooler evenings. | Opt for sun-protective accessories like sunglasses, wide-brimmed hats, and sunscreen. |
| Summer | Lightweight and airy clothing, such as loose-fitting tops, shorts, skirts, and dresses made from natural fibers. Don't forget your swimsuit for poolside lounging. | Stay hydrated by carrying a water bottle and wearing a wide-brimmed hat to shield yourself from the intense desert sun. |
| Fall | Light layers, including long-sleeve shirts, jeans, and light sweaters. Consider adding a light jacket or cardigan for cooler evenings. | Keep an eye out for desert blooms during this season, and bring a camera to capture the stunning scenery. |
| Winter | Warmer clothing, such as sweaters, long pants, and closed-toe shoes. Layering is key as temperatures can vary throughout the day. | Don't forget to pack a jacket or coat for chilly nights, and consider exploring indoor attractions during the cooler months. |
As an expert on Scottsdale attire, it is important to consider the region's climate and unique desert environment. Remember to dress comfortably and in materials that allow your body to breathe, especially during the hot summer months. Protect yourself from the sun's rays by wearing proper sun-protective accessories and staying well-hydrated. In cooler seasons, layering becomes essential in adapting to fluctuating temperatures. Keep in mind that Scottsdale's natural beauty is worth capturing, so don't forget your camera to immortalize the stunning scenery.
"Explore the Best of Scottsdale, AZ in 2023: Top 10 Must-Do Experiences!"
What to Wear in Scottsdale: Dressing for the Desert
Scottsdale, Arizona, is known for its stunning desert landscapes, vibrant nightlife, and luxurious resorts. With the city's hot summers and mild winters, it's important to dress appropriately to stay comfortable and stylish. Whether you're planning a vacation or moving to this desert metropolis, here's a guide on what to wear in Scottsdale.
Sun Protection
With an average of 299 sunny days per year, Scottsdale residents and visitors need to prioritize sun protection. Sunscreen is a must, with a high SPF to shield your skin from the intense desert sun. Additionally, wearing a wide-brimmed hat will provide extra shade for your face and neck. Sunglasses are also essential to protect your eyes from harmful UV rays.
Lightweight and loose-fitting clothing is ideal for staying cool while enjoying outdoor activities. Opt for breathable materials like cotton and linen to keep sweat at bay. Long-sleeved shirts and pants made from lightweight fabrics also provide an extra layer of sun protection. Don't forget to bring a lightweight jacket or sweater for cooler evenings.
Resort Chic
Scottsdale is home to numerous upscale resorts, so it's no surprise that dressing in resort chic attire is popular in the city. For women, this means sundresses, flowy maxi dresses, or linen pants paired with a stylish blouse. Men can opt for linen shirts or polo shirts paired with tailored shorts or lightweight trousers. Dressing up a little is common, even for casual outings, so don't be afraid to embrace a more polished look.
Comfortable footwear is also a must, as Scottsdale offers plenty of opportunities for exploring on foot. For women, stylish sandals or wedges are a great choice, while men can opt for loafers or boat shoes. Remember to choose shoes that are easy to slip on and off, as you may need to remove them when entering certain establishments.
Active Attire
With its stunning natural surroundings, Scottsdale is a haven for outdoor enthusiasts. Whether you're hiking in the McDowell Sonoran Preserve or playing a round of golf, it's important to wear the right clothing. Moisture-wicking fabrics are essential for keeping sweat at bay and staying comfortable during physical activities.
Women can opt for breathable athletic tops, sports bras, and lightweight shorts or leggings. Men can choose from moisture-wicking t-shirts, athletic shorts, and comfortable sneakers. Don't forget to wear a hat and sunglasses to protect yourself from the sun during outdoor activities.
Evening Elegance
When it comes to evening outings in Scottsdale, embracing a more elegant style is common. For women, this means wearing a chic cocktail dress or a fashionable jumpsuit paired with heels. Men can opt for tailored trousers, a button-down shirt, and dress shoes. Adding a blazer or sport coat can elevate your look even further.
Scottsdale's dining scene is renowned, with a plethora of upscale restaurants to choose from. Many of these establishments have dress codes, so it's always a good idea to check in advance. Dressing up for a night out not only shows respect for the venue but also adds to the overall experience.
Layering Essentials
While Scottsdale is known for its scorching summers, its winters can bring cooler temperatures. It's important to be prepared for the fluctuating weather by layering your clothing. Lightweight sweaters, cardigans, and jackets are perfect for adding warmth when needed.
Layering also allows you to easily transition from the outdoors to air-conditioned interiors without feeling too hot or too cold. It's a good idea to carry a small bag or backpack to store your extra layers as the day progresses.
In conclusion, when it comes to what to wear in Scottsdale, it's important to prioritize sun protection and comfort. From resort chic attire to active wear, there are plenty of stylish options to suit the city's diverse activities and climate. Remember to check dress codes for upscale establishments and always be prepared for the fluctuating desert temperatures. With the right clothing, you'll be able to fully enjoy all that Scottsdale has to offer.
What to Wear in Scottsdale:
Lightweight and breathable clothing
Sunscreen and a hat for sun protection
Sunglasses to shield your eyes from the bright desert sun
Comfortable walking shoes or sandals
A swimsuit for poolside lounging
Light layers for cooler evenings
A light jacket or sweater for air-conditioned indoor spaces
A wide-brimmed hat for outdoor activities
Casual and stylish attire for dining out and exploring the city
Moisture-wicking and quick-drying clothing for outdoor activities
Frequently Asked Questions
What is the typical attire for Scottsdale?
The typical attire for Scottsdale is casual and comfortable. Due to the warm climate, it is recommended to wear lightweight and breathable clothing. Shorts, t-shirts, tank tops, and sundresses are popular choices. It is also advisable to bring a hat, sunglasses, and sunscreen for sun protection. In the evenings, you may opt for slightly dressier outfits for dining out or attending events. Overall, the key is to dress comfortably while keeping in mind the desert climate.
What should I wear for outdoor activities in Scottsdale?
For outdoor activities in Scottsdale, it is important to dress appropriately for the weather and the specific activity you will be engaging in. If you are planning to hike or participate in any physical activities, it is recommended to wear moisture-wicking clothing and proper athletic shoes. Lightweight and breathable fabrics such as nylon or polyester are ideal to keep you cool and comfortable. Don't forget to bring a hat, sunglasses, and sunscreen to protect yourself from the sun. It is also advisable to layer your clothing as temperatures can change throughout the day. Additionally, carrying a small backpack or a fanny pack can be useful to carry essentials such as water, snacks, and a camera.
How should I dress for upscale dining in Scottsdale?
For upscale dining in Scottsdale, it is recommended to dress in smart casual or business casual attire. Men can wear dress pants or khakis with a collared shirt, and a blazer or sport coat for a more formal look. Women can opt for dresses, skirts, or dress pants paired with a blouse or a stylish top. It is always a good idea to check the dress code of the specific restaurant you will be visiting, as some establishments may have stricter
requirements
. Additionally, it is advisable to avoid wearing overly casual attire such as shorts, flip flops, or athletic wear. Dressing up a bit shows respect for the establishment and enhances the overall dining experience.