Experience the vibrant colors and coastal charm of Sicily in April as you explore this stunning Italian island. With its Mediterranean climate, Sicily offers pleasant temperatures during this time of year, making it the perfect destination for a spring getaway. Discover the fascinating blend of ancient ruins, Baroque architecture, and picturesque landscapes that this enchanting island has to offer. Embrace the opportunity to immerse yourself in the local culture and history as you stroll through the charming streets of Palermo or visit the awe-inspiring Valley of the Temples in Agrigento. Indulge in the mouthwatering Sicilian cuisine, renowned for its fresh seafood, citrus fruits, and delectable pastries. Whether you're lounging on the sun-kissed beaches of Taormina, exploring the historic city of Syracuse, or marveling at the majestic Mount Etna, Sicily in April promises unforgettable experiences and breathtaking beauty. Don't miss the chance to experience the magnificence of Sicily in the springtime, where every corner offers a new adventure and every moment is filled with beauty and enchantment.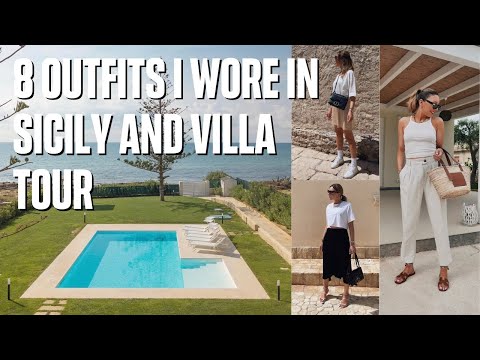 What to Wear in Sicily in April
| Item | Description |
| --- | --- |
| Sun hat | A wide-brimmed hat is essential to protect against the intensifying sun rays. Opt for a stylish straw hat to stay cool and shield your face from the sun. |
| Sunglasses | Invest in a good pair of sunglasses with UV protection. The sun can be quite strong in April, and sunglasses will not only protect your eyes but also add a fashionable touch to your outfit. |
| Lightweight clothing | Choose breathable and lightweight fabrics such as cotton or linen. Sicily enjoys mild temperatures in April, but it can still get warm during the day. Opt for flowy dresses, skirts, or loose-fitting shirts and shorts to stay comfortable. |
| Cardigan or light jacket | Although the days are generally pleasant, evenings in Sicily can still be slightly chilly in April. Pack a cardigan or a light jacket to layer over your outfits when the temperature drops. |
| Comfortable walking shoes | Sicily is known for its rich history and stunning architecture, so be prepared to do some exploring on foot. Choose comfortable walking shoes or sandals to ensure a pleasant experience while wandering through charming Sicilian streets. |
| Bathing suit | If you plan on enjoying Sicily's beautiful beaches or taking a dip in the sea, don't forget to pack a bathing suit. April marks the beginning of the beach season, and you might find some sunny days perfect for a beach excursion. |
| Umbrella | April in Sicily can bring occasional showers. It's always a good idea to carry a compact umbrella in your bag to protect yourself from unexpected rain. |
As an expert, I recommend following this clothing guide for a comfortable and stylish experience in Sicily during April. Remember to prioritize lightweight and breathable fabrics, protect yourself from the sun, and be prepared for sudden weather changes. Enjoy your time exploring the stunning landscapes, vibrant cities, and delicious cuisine Sicily has to offer!
What to Wear in Sicily in April: A Guide to Dressing for the Spring Weather
April is a beautiful time to visit Sicily, with mild temperatures and blooming landscapes. However, it can be tricky to decide what to wear during this transitional season. Whether you plan to explore the historic sites, relax on the stunning beaches, or indulge in the local cuisine, dressing appropriately is key to enjoying your time in Sicily. Read on to discover our tips on what to wear in Sicily in April.
1. Layering is Essential
April in Sicily can be quite unpredictable when it comes to weather. While the days are generally warm, the evenings can still be cool. Therefore, it is crucial to pack clothes that can be easily layered. Consider bringing lightweight sweaters, cardigans, and jackets that can be easily taken off or put on as the temperature fluctuates throughout the day.
2. Opt for Breathable Fabrics
Sicily experiences pleasant temperatures in April, with an average high of around 20°C (68°F). To stay comfortable in the spring heat, choose garments made of breathable fabrics such as cotton or linen. These materials allow air to circulate and prevent you from feeling too hot and sweaty. Plus, they are perfect for exploring the island's picturesque towns and cities on foot.
3. Don't Forget Your Sunglasses and Sunscreen
Sicily is known for its abundant sunshine, and April is no exception. As the sun becomes stronger, it is crucial to protect your skin and eyes from harmful UV rays. Pack a pair of stylish sunglasses to shield your eyes from the glare, and don't forget to apply a high SPF sunscreen to protect your skin from sunburn. Opt for a waterproof option if you plan to spend time at the beautiful Sicilian beaches.
4. Comfortable Footwear is a Must
Sicily is a destination that begs to be explored, from its ancient ruins to its charming coastal towns. To make the most of your adventures, make sure to pack comfortable footwear. Opt for walking shoes or sandals with good arch support that will allow you to navigate the cobbled streets and uneven terrain with ease. As the weather can still be a bit unpredictable, it's wise to bring a pair of closed-toe shoes as well.
5. Dress Respectfully for Cultural Sites
Sicily is home to an array of historical and religious sites that require visitors to dress modestly and respectfully. When planning your outfits, keep in mind that shoulders and knees should be covered when visiting churches, cathedrals, and other sacred places. Consider packing lightweight scarves or shawls that can be easily wrapped around your shoulders when needed. This way, you can enjoy the cultural treasures of Sicily without any restrictions.
In conclusion, dressing appropriately for the weather conditions in Sicily in April is essential to fully enjoy your visit. Layering your clothing, choosing breathable fabrics, protecting yourself from the sun, wearing comfortable footwear, and dressing respectfully for cultural sites are all key factors to consider when packing for your Sicilian adventure. By following these tips, you can ensure a comfortable and stylish trip while immersing yourself in the beauty and culture of this enchanting island.
What to Wear in Sicily in April
Lightweight clothing
Short-sleeved shirts and blouses
Cotton or linen pants
Spring dresses or skirts
Lightweight sweaters or cardigans for cooler evenings
Comfortable walking shoes
Sandals or open-toed shoes
Sunglasses and a sunhat for sun protection
A lightweight jacket or raincoat for occasional showers
Swimwear for beach visits
Frequently Asked Questions
What should I wear in Sicily in April?
In April, Sicily starts to transition into spring, so you can expect mild temperatures. It is recommended to bring a mix of clothing options to accommodate the changing weather. During the day, you can wear lightweight and breathable clothing such as t-shirts, blouses, and shorts or skirts. However, it is advisable to bring a light jacket or sweater for cooler evenings. Additionally, pack a few pairs of comfortable walking shoes for exploring the sights and cobblestone streets. Don't forget to bring sunglasses, a hat, and sunscreen to protect yourself from the sun.
Are there any specific dress codes in Sicily in April?
In general, there are no strict dress codes in Sicily, especially in April. However, when visiting religious sites or churches, it is important to dress modestly. This means covering your shoulders and knees. You can bring a shawl or a lightweight cardigan to cover up if needed. Sicily is known for its beautiful beaches, so if you plan to spend time by the sea, pack your swimwear, beach towels, and a cover-up. Overall, it's a good idea to dress comfortably and casually during your stay in Sicily.
What accessories should I bring for Sicily in April?
In April, the weather in Sicily can be quite pleasant, so it's a good idea to bring a few accessories to enhance your outfits. Sunglasses are essential to protect your eyes from the sun. A wide-brimmed hat or a cap can provide extra shade and protection. As for jewelry, keep it simple and lightweight. A statement necklace or a pair of earrings can add a touch of style to your look. Don't forget to bring a small crossbody bag or a tote bag to carry your essentials while exploring the cities and towns.