What to pack for a week in Puerto Rico: Discover the ultimate packing guide to ensure an unforgettable week in the tropical paradise of Puerto Rico! Immerse yourself in the vibrant culture, stunning beaches, and lush rainforests while feeling confident and prepared. With our expert tips, you'll be able to pack smart and stylishly for every adventure that awaits. Don't forget to pack lightweight and breathable clothing to stay cool in the island's warm climate. From swimsuits to sundresses, be ready to soak up the sun and dive into crystal-clear waters. Remember to include sunscreen and a wide-brimmed hat for protection against the Caribbean rays. For exploring the enchanting rainforests, equip yourself with comfortable hiking shoes and a waterproof backpack for any unexpected showers. And of course, don't leave home without your camera to capture the breathtaking landscapes and sense of adventure that Puerto Rico offers. Whether you're strolling through the colorful streets of Old San Juan or indulging in mouthwatering local cuisine, this packing guide will ensure a week filled with unforgettable moments in this tropical paradise. Start packing now and get ready for the trip of a lifetime!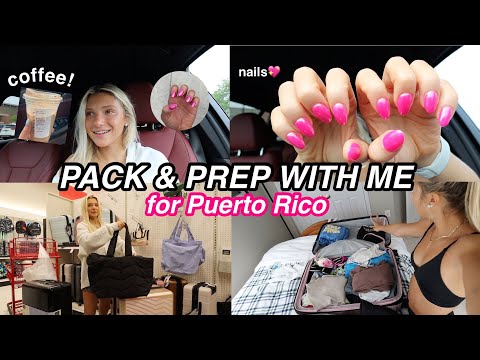 What to Pack for a Week in Puerto Rico
| Item | Reason |
| --- | --- |
| Sunscreen | Puerto Rico boasts a tropical climate with plenty of sunshine, so protecting your skin from harmful UV rays is essential. |
| Lightweight Clothing | Due to the warm and humid weather, it is advisable to pack breathable fabrics such as cotton or linen to stay comfortable. |
| Swimsuits | With its stunning beaches and crystal-clear waters, Puerto Rico offers numerous opportunities for swimming and water activities. |
| Insect Repellent | As a tropical destination, Puerto Rico is home to various insects, so having repellent will help protect you from bites and discomfort. |
| Hiking Shoes | Exploring Puerto Rico's lush rainforests and hiking trails requires sturdy footwear to ensure comfort and safety. |
| Rain Jacket | Although Puerto Rico enjoys a predominantly sunny climate, occasional rain showers are common, especially in the rainforest regions. |
| Electrical Adapters | Puerto Rico uses the same electrical outlets as the United States, so if you're traveling from a different country, make sure to bring the appropriate adapters. |
| Spanish Phrasebook | While many Puerto Ricans speak English, having a basic understanding of Spanish can greatly enhance your experience and interactions with locals. |
| Camera | With its stunning landscapes, colonial architecture, and vibrant culture, Puerto Rico offers countless photo-worthy moments that you wouldn't want to miss capturing. |
| Beach Towel | Beach hopping is a must in Puerto Rico, and having a lightweight and absorbent towel will keep you comfortable while enjoying the sandy shores. |
As an expert, I highly recommend packing these essentials to ensure a fantastic and stress-free week in Puerto Rico.
"Puerto Rico: Nailing the Perfect Getaway with Smart Shopping, Work, and More!"
What to Pack for a Week in Puerto Rico
Planning a trip to Puerto Rico? As you prepare for your adventure in this beautiful Caribbean island, it's essential to pack wisely to ensure you have everything you need for a comfortable and enjoyable week. Here are five compelling categories to consider as you pack for your trip.
1. Clothing
Puerto Rico's tropical climate means you'll want to pack lightweight and breathable clothing suitable for warm weather. Consider packing a mix of shorts, skirts, lightweight pants, and dresses. Don't forget to include t-shirts, tank tops, and light long-sleeved shirts to protect yourself from the strong sun rays. Remember to pack a swimsuit or two, as well as a cover-up for the beach. Additionally, bring a light rain jacket or poncho for unexpected showers.
2. Essentials
When it comes to essentials, there are a few items you shouldn't leave behind. Firstly, make sure to pack a good sunscreen with a high SPF to protect your skin from the sun's rays. Insect repellent is also a must, especially if you plan on exploring the lush rainforests of El Yunque. Don't forget to bring a refillable water bottle to stay hydrated in the heat. Other essentials include a hat or cap, sunglasses, and a small backpack to carry your belongings during day trips.
3. Footwear
Choosing the right footwear is crucial for a comfortable vacation in Puerto Rico. Opt for comfortable walking shoes or sneakers, especially if you plan on exploring the charming streets of Old San Juan or hiking in El Yunque. Sandals or flip-flops are perfect for the beach or lounging by the pool. Don't forget to pack a pair of water shoes if you plan on exploring rocky beaches or participating in water activities such as snorkeling or kayaking.
4. Electronics and Accessories
While it's essential to disconnect and enjoy the beauty of Puerto Rico, you'll still want to bring some electronics and accessories. Don't forget your smartphone and its charger, as well as a universal travel adapter if needed. A portable power bank can be handy, especially if you plan on spending long days exploring without access to a power outlet. If you enjoy photography, consider packing a waterproof camera or a GoPro to capture stunning underwater shots.
5. Medications and First Aid Kit
It's always important to be prepared for any unexpected health issues during your trip. Pack any necessary prescription medications in their original containers and bring a copy of your prescriptions. Additionally, consider bringing a basic first aid kit with essentials such as band-aids, antiseptic wipes, pain relievers, and any other personal medications or supplies you may need. It's better to be safe than sorry, especially when exploring unfamiliar territory.
Remember to pack light and efficiently, only bringing what you truly need. Keep in mind the weight restrictions for your luggage and try to leave some room for souvenirs and mementos from your trip. With careful planning and packing, you'll be well-prepared for an unforgettable week in Puerto Rico.
What to Pack for a Week in Puerto Rico:
Lightweight and breathable clothing
Bathing suits and cover-ups
Sunscreen and sun hat
Aloe vera gel or after-sun lotion
Insect repellent
Comfortable walking shoes
Flip flops or sandals
Beach towel or mat
Waterproof phone case
Portable charger
Snorkeling gear
Reusable water bottle
Travel-sized toiletries
Medications and first aid kit
Travel adapter and voltage converter
Light rain jacket or poncho
Camera or smartphone for capturing memories
Daypack or beach bag
Cash and credit cards
Spanish phrasebook or language translator app
Frequently Asked Questions
What clothes should I pack for a week in Puerto Rico?
When packing for a week in Puerto Rico, it's important to consider the tropical climate. Lightweight and breathable clothing is essential. Pack plenty of shorts, t-shirts, and tank tops, as well as a few light long-sleeved shirts for cooler evenings. Don't forget to bring a swimsuit, as well as a cover-up for when you're not in the water. Additionally, pack a hat and sunglasses to protect yourself from the sun. Lastly, include a light jacket or sweater for any unexpected changes in weather.
What shoes should I pack for a week in Puerto Rico?
When it comes to footwear, it's best to pack a variety of options for different activities. Bring a comfortable pair of walking shoes or sneakers for exploring the cities and towns. For beach days, pack a pair of sandals or flip-flops that can easily be slipped on and off. If you plan on hiking or participating in outdoor activities, consider bringing a pair of sturdy hiking shoes or trail runners. Lastly, don't forget to pack socks and any necessary accessories like water shoes or reef-safe sandals.
What other essentials should I pack for a week in Puerto Rico?
In addition to clothing and footwear, there are a few other essentials you should pack for a week in Puerto Rico. Sunscreen is a must, as the sun can be quite strong. Opt for a broad-spectrum sunscreen with a high SPF. It's also a good idea to pack a reusable water bottle to stay hydrated throughout the day. Mosquito repellent is another essential, especially if you plan on spending time outdoors in the evenings. Lastly, don't forget to pack any necessary medications, toiletries, and travel documents like your passport and travel insurance information.