What to wear in Nantucket: Discover the epitome of coastal chic with our essential guide on dressing for the idyllic island of Nantucket. Immerse yourself in the timeless allure of this picturesque destination, renowned for its pristine beaches, charming cobblestone streets, and rich maritime history. Whether strolling along the waterfront or indulging in the island's vibrant social scene, dressing the part is a must. Embrace a nautical aesthetic with crisp, tailored sailor stripes and classic yacht-inspired attire. Add a touch of preppy elegance with pastel hues, lightweight fabrics, and iconic brands that epitomize New England sophistication. As you traverse the island's enchanting landscapes, embrace the relaxed vibe with breezy linen dresses, comfortable shorts, and breathable cotton shirts. Don't forget to accessorize with statement sunglasses, straw hats, and woven tote bags that effortlessly complement the island's laid-back atmosphere. From romantic sunset beach walks to upscale dining experiences, Nantucket calls for effortlessly stylish ensembles that exude both charm and sophistication. So, pack your suitcase with a blend of classic, timeless pieces and contemporary coastal trends, and immerse yourself in the captivating fashion scene of Nantucket.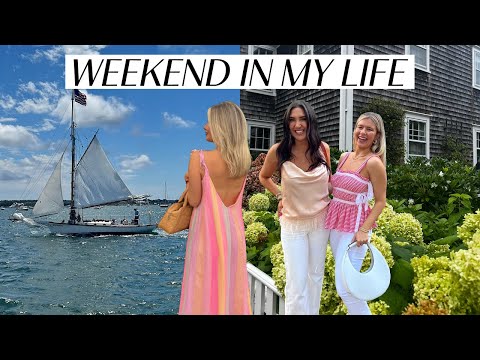 What to Wear in Nantucket
| Season | Attire | Key Pieces |
| --- | --- | --- |
| Spring | Layered Clothing | Lightweight sweaters, rain jacket, jeans |
| Summer | | Bathing suits, cover-ups, shorts, linen shirts |
| Fall | Transitional Clothing | Light jackets, long-sleeve shirts, jeans, ankle boots |
| Winter | | Heavy coats, sweaters, scarves, boots |
Nantucket, an idyllic island off the coast of Massachusetts, boasts a charming blend of coastal living and New England style. When it comes to dressing for this picturesque destination, it's essential to consider the ever-changing seasons and the island's casual yet sophisticated vibe. In the spring, Nantucket's weather can be unpredictable, so layered clothing is key. Opt for lightweight sweaters that can easily be removed if the temperature rises, and don't forget a rain jacket for those occasional showers. Pair these with comfortable jeans for a classic, relaxed look. During the summer months, Nantucket's beaches steal the spotlight. Beachwear is a must, with bathing suits and cover-ups being essential items. Embrace the island's casual atmosphere by wearing comfortable shorts and breezy linen shirts. Don't forget your sun hat and sunglasses to complete the perfect beach ensemble. As autumn arrives, Nantucket undergoes a beautiful transition. Dressing in transitional clothing is ideal during this time. Lightweight jackets and long-sleeve shirts will keep you comfortable during the cooler mornings and evenings. Pair them with jeans and ankle boots to create a stylish yet practical outfit. When winter comes knocking, Nantucket becomes a cozy haven. Stay warm while exploring the island by donning heavy coats, sweaters, and scarves. Opt for stylish boots that can withstand the occasional snowfall. Layering is essential during this season, ensuring you are prepared for both the chilly outdoors and cozy indoor gatherings. Remember, Nantucket's style is all about blending comfort with elegance. Whether you're lounging on the beach or strolling through the charming streets, dress to embrace the island's relaxed yet refined atmosphere.
"Nantucket: Unforgettable Coastal Grandmother Getaway"
The Ultimate Guide to What to Wear in Nantucket
Nantucket, the charming island off the coast of Massachusetts, is known for its picturesque landscapes, quaint cobblestone streets, and rich maritime history. Whether you're planning a summer vacation or a weekend getaway, it's essential to dress appropriately for the island's unique climate and atmosphere. In this article, we'll explore the fashion dos and don'ts of Nantucket, helping you blend in seamlessly with the island's timeless style.
1. Embracing Nautical Chic
When it comes to fashion in Nantucket, embracing the nautical theme is a must. The island's maritime culture is deeply ingrained in its style, and you'll find that many locals and visitors alike opt for classic, preppy looks inspired by the sea. Think crisp white shirts, navy blazers, striped tops, and boat shoes. Incorporating these staple pieces into your outfits will help you channel the island's timeless charm.
2. Dressing for the Weather
Nantucket experiences a moderate coastal climate, with warm summers and cool winters. During the summer months, lightweight fabrics such as linen and cotton are your best friends. Opt for breezy sundresses, shorts, and breathable shirts to stay comfortable in the island's heat. In the winter, layering is key. Pair warm sweaters with cozy scarves and waterproof boots to stay cozy while exploring the island's winter wonderland.
3. Adapting to Island Casual
Nantucket has a relaxed, laid-back vibe, and this is reflected in the island's fashion sense. While the locals do appreciate a touch of elegance, formal attire is generally reserved for special occasions. Embrace the island's casual flair by opting for attire like khaki pants, Bermuda shorts, sundresses, and lightweight blouses. Remember, comfort is key when exploring the island's cobblestone streets and picturesque beaches.
4. Accessorizing with Elegance
No outfit is complete without the right accessories, and Nantucket offers plenty of opportunities to showcase your style. When it comes to jewelry, opt for timeless pieces inspired by the sea, such as delicate anchor earrings or a dainty seashell necklace. Don't forget to protect yourself from the sun with a wide-brimmed hat and a pair of stylish sunglasses. Lastly, a classic leather tote or a woven beach bag will add a touch of sophistication to your ensemble.
5. Dressing for Special Occasions
Nantucket is famous for its social events and parties, from elegant soirées to beachside clambakes. If you're lucky enough to attend one of these gatherings, it's important to dress the part. For women, a summery cocktail dress or a flowy maxi dress will ensure you look effortlessly chic. Men can opt for lightweight blazers paired with dress shirts and chinos. Remember to pay attention to the event's dress code and consider the location when choosing footwear, as some events may be held on grass or sand.
In conclusion, dressing appropriately in Nantucket means embracing the island's nautical chic, adapting to its casual vibe, and dressing for the weather. By incorporating classic pieces, lightweight fabrics, and elegant accessories into your wardrobe, you'll effortlessly blend in with the timeless style of this charming island.
What to Wear in Nantucket
Sunhat
Sunglasses
Lightweight tops
Breathable bottoms (shorts, skirts, or linen pants)
Sundresses
Swimsuit
Beach cover-up
Flip flops or sandals
Comfortable walking shoes
Lightweight jacket or sweater for cooler evenings
Raincoat or umbrella (in case of rain)
Sunscreen
Insect repellent
Beach towel
Tote bag or beach bag
Camera or smartphone for capturing memories
Frequently Asked Questions
What is the appropriate attire for Nantucket?
When visiting Nantucket, it is recommended to dress in a casual and preppy style. The island has a relaxed atmosphere, so you can opt for comfortable clothing such as shorts, sundresses, and polo shirts. Nantucket is known for its classic New England style, so you may also want to incorporate nautical-inspired elements such as stripes, boat shoes, and anchors. Additionally, it is important to pack layers as the weather can change throughout the day, and don't forget to bring a light jacket or sweater for cooler evenings.
Are there any dress code restrictions in Nantucket?
While Nantucket has a casual dress code, there are a few places on the island that may have specific dress code restrictions. Some upscale restaurants and clubs may require more formal attire, such as collared shirts and dress shoes for men, and dresses or dressy separates for women. It is always a good idea to check the dress code of any establishments you plan to visit to ensure you are appropriately dressed.
What should I wear to the beach in Nantucket?
When going to the beach in Nantucket, it is best to wear comfortable and practical clothing. A swimsuit or swim trunks are essential for swimming or sunbathing. You can also bring a cover-up, such as a sarong or beach dress, for when you're not in the water. Don't forget to bring a hat, sunglasses, and sunscreen to protect yourself from the sun. It is also a good idea to wear sandals or flip-flops, as the sand can get hot. Finally, bring a beach bag to carry your essentials like a towel, water bottle, and beach read.