Mykonos, a captivating Greek island in the heart of the Aegean Sea, beckons you to immerse yourself in its enchanting beauty. Stunning beaches, crystal-clear waters, and sun-kissed landscapes await, offering the perfect escape from the ordinary. Lose yourself in the vibrant atmosphere of Mykonos Town, with its labyrinthine streets, charming boutiques, and cosmopolitan nightlife. As the sun sets, indulge in delectable cuisine at world-class restaurants and sip on exquisite cocktails while overlooking the iconic windmills. For history enthusiasts, a visit to the ancient island of Delos, just a short boat trip away, reveals a treasure trove of archaeological wonders. Explore the well-preserved ruins, including the Terrace of the Lions and the Sacred Lake, and let your imagination transport you back to the glory days of ancient Greece. Seeking serenity? Discover secluded coves and hidden gems along the coastline, where you can bask in the tranquility of turquoise waters and soak up the sun on pristine sandy shores. Mykonos offers an irresistible blend of natural beauty, rich history, and vibrant culture, making it a destination that will capture your heart and leave you yearning for more.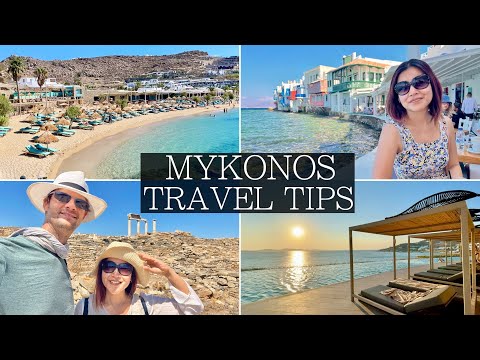 Must-See Attractions in Mykonos
| Attraction | Description | Highlights |
| --- | --- | --- |
| Mykonos Town | Also known as Chora, the charming capital of Mykonos offers a labyrinthine maze of narrow streets, whitewashed buildings, and vibrant bougainvillea. Here, you'll find iconic windmills, designer boutiques, art galleries, and delightful restaurants. | – Explore the iconic Windmills of Kato Mili for a stunning panoramic view of the town and the Aegean Sea. – Visit the impressive Church of Panagia Paraportiani, an architectural masterpiece. – Stroll through Matoyianni Street, lined with high-end shops and local boutiques. |
| Paradise Beach | Famous for its lively atmosphere and crystal-clear turquoise waters, Paradise Beach is a must-visit for beach lovers and party enthusiasts. This popular coastline is home to vibrant beach clubs, watersports activities, and pulsating music that will keep the energy levels soaring. | – Enjoy a day of sunbathing and relaxation on the soft golden sands. – Experience the vibrant beach parties and DJ sets that last late into the night. – Engage in thrilling water sports such as jet skiing, parasailing, and windsurfing. |
| Delos Island | Delos, a UNESCO World Heritage Site, is an ancient archaeological gem located near Mykonos. This sacred island is believed to be the birthplace of Apollo and Artemis and boasts well-preserved ruins, ancient temples, and stunning mosaics. | – Take a guided tour to learn about the rich history and mythology associated with Delos. – Explore the impressive Terrace of the Lions, where monumental statues once guarded the Sacred Way. – Admire the intricate mosaics and frescoes found in the House of Dionysus. |
| Little Venice | Little Venice is a picturesque neighborhood in Mykonos Town known for its charming waterfront houses that seem to be cascading into the sea. With its colorful balconies, waterfront bars, and stunning sunset views, this area is perfect for romantic walks and capturing memorable photographs. | – Enjoy a romantic dinner in one of the waterfront restaurants while watching the mesmerizing sunset. – Take a leisurely stroll along the narrow alleys and admire the unique architectural beauty. – Capture Instagram-worthy photos against the backdrop of the colorful houses and crashing waves. |
Note: Mykonos offers numerous other attractions, such as the Archaeological Museum of Mykonos, the Panagia Tourliani Monastery, and the Super Paradise Beach. Make sure to explore these hidden gems as well to fully immerse yourself in the beauty and culture of this captivating Greek island.
"Essential Insider Tips for Your Unforgettable Getaway to Mykonos, Greece!"
Exploring the Beauty of Mykonos: What to See and Experience
Mykonos, a captivating island in the heart of the Aegean Sea, is renowned for its stunning beaches, vibrant nightlife, and charming Cycladic architecture. With its picturesque landscapes and rich cultural heritage, this Greek gem attracts visitors from all over the world. Whether you are a history enthusiast, a nature lover, or simply seeking a relaxing getaway, Mykonos has something to offer everyone. Here are five must-see attractions that will make your trip to Mykonos truly unforgettable.
1. The Enchanting Windmills
No visit to Mykonos is complete without a visit to the iconic windmills, which have become a symbol of the island. Located in Chora, the island's main town, these charming windmills stand proudly on a hill overlooking the Aegean Sea. Originally used to grind wheat, the windmills now serve as a reminder of the island's agricultural past. With their whitewashed walls and thatched roofs, the windmills create a postcard-perfect scene that is sure to leave you captivated.
2. The Lively Little Venice
Take a stroll through the narrow streets of Little Venice, a picturesque district in Mykonos Town that resembles the famous Italian city. This enchanting neighborhood is characterized by its colorful buildings that stand on the edge of the sea, with their balconies hanging precariously over the water. As you wander through its labyrinthine alleys, you will discover art galleries, boutique shops, and trendy bars that come alive as the sun sets. Enjoy a romantic dinner with a breathtaking view of the sunset, and witness the transformation of Little Venice into a vibrant nightlife hub.
3. The Majestic Delos Island
A short boat ride from Mykonos lies the sacred island of Delos, an archaeological gem that offers a glimpse into the ancient Greek civilization. Delos was once believed to be the birthplace of Apollo and Artemis, making it a significant religious and cultural center in antiquity. Explore the well-preserved ruins of temples, statues, and houses, and imagine what life was like in this once-thriving city. The Terrace of the Lions, a row of marble lion statues guarding the Sacred Way, is undoubtedly one of the most awe-inspiring sights on the island.
4. The Pristine Beaches
Renowned for their crystal-clear turquoise waters and golden sand, Mykonos boasts some of the most beautiful beaches in the Cyclades. From the popular Paradise Beach, known for its lively beach clubs and parties, to the tranquil Agios Sostis Beach, untouched by commercial development, there is a beach to suit every taste. Spend your days soaking up the sun, swimming in the refreshing sea, and indulging in delicious Greek cuisine at one of the beachfront tavernas. For those seeking a more secluded experience, the lesser-known beaches of Fokos and Kapari offer serenity and natural beauty.
5. The Charming Panagia Paraportiani
Located in the Kastro neighborhood of Chora, the Panagia Paraportiani is a stunning whitewashed church that stands as a testament to Mykonos' religious heritage. This architectural masterpiece is actually a complex of four chapels, each built at a different time period. The unique design and harmonious blend of Byzantine, Venetian, and traditional Cycladic styles make it one of the most photographed churches in Greece. Visit during sunset, when the church is bathed in a golden glow, and witness its ethereal beauty.
Mykonos, with its irresistible charm and diverse attractions, promises an unforgettable experience for every traveler. From exploring ancient ruins to reveling in the island's vibrant nightlife, this Greek paradise has something to offer everyone. So, pack your bags, immerse yourself in the rich culture and natural beauty of Mykonos, and create memories that will last a lifetime.
What to See in Mykonos
Mykonos Town (Chora)
Windmills of Mykonos
Little Venice
Delos Island
Paradise Beach
Super Paradise Beach
Panagia Paraportiani Church
Ano Mera Village
Archaeological Museum of Mykonos
Mykonos Folklore Museum
Agios Sostis Beach
Aegean Maritime Museum
Matogianni Street
Psarou Beach
Ornos Beach
Frequently Asked Questions
What are the must-see attractions in Mykonos?
Mykonos offers an array of attractions that are worth visiting. Some of the must-see attractions include:

1. The Windmills: These iconic windmills are one of the most recognizable landmarks in Mykonos. They offer a picturesque view of the island and are perfect for photography.

2. Little Venice: This charming neighborhood is known for its colorful houses and waterfront cafes. It's a great place to relax, enjoy a drink, and watch the sunset.

3. Delos Island: Take a boat trip to Delos Island, which is a UNESCO World Heritage Site. It is an archaeological paradise with ancient ruins, temples, and statues.
What are the best beaches to visit in Mykonos?
Mykonos is famous for its stunning beaches. Here are some of the best beaches to visit:

1. Paradise Beach: This popular beach is known for its vibrant party scene. It has crystal-clear turquoise waters, soft sand, and beach bars playing music.

2. Super Paradise Beach: Another party hotspot, Super Paradise Beach is famous for its lively atmosphere and beach clubs. It offers various water sports and facilities.

3. Agios Sostis Beach: If you prefer a more secluded and peaceful beach, Agios Sostis is the perfect choice. It offers crystal-clear waters, golden sand, and a tranquil environment.
What cultural sites should I visit in Mykonos?
Mykonos has a rich cultural heritage, and there are several cultural sites worth visiting:

1. Panagia Paraportiani: This iconic church is a must-visit in Mykonos. It is a unique architectural masterpiece and a symbol of the island.

2. Archaeological Museum of Mykonos: Explore the archaeological museum to learn about the island's ancient history. It houses a collection of artifacts from Delos Island.

3. Ano Mera Village: Visit Ano Mera, a traditional village in Mykonos, to experience the local culture. It has a beautiful monastery, charming taverns, and a peaceful atmosphere.