Discover the Unforgettable Charms of Corfu, Greece – Embark on an extraordinary journey to the enchanting island of Corfu, Greece, as your cruise ship docks in its picturesque harbor. Step ashore and immerse yourself in a world of captivating beauty, rich history, and vibrant culture. Experience the exquisite beaches that shimmer with crystal-clear turquoise waters, inviting you to bask in the Mediterranean sun and indulge in ultimate relaxation. Explore the timeless architecture of old Corfu town, where Venetian influences blend seamlessly with Greek tradition, creating a visual feast for the senses. Wander through narrow cobblestone streets, lined with charming cafes, dazzling boutiques, and quaint tavernas serving mouthwatering local delicacies. Marvel at the breathtaking views from the majestic Achilleion Palace, adorned with lush gardens and statues that pay homage to Greek mythology. Take a journey back in time at the ancient ruins of the UNESCO-listed Old Town, where you can witness the remnants of a glorious past. As the sun sets, savor the unforgettable flavors of Greek cuisine, as you sip on a glass of ouzo and indulge in a delectable meze feast overlooking the azure sea. With its captivating beauty and vibrant atmosphere, Corfu beckons you to create memories that will last a lifetime.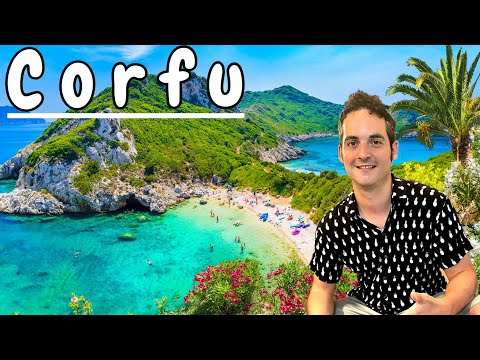 What to Do in Corfu, Greece from a Cruise Ship
| Attractions | Description | Expert Tip |
| --- | --- | --- |
| Old Town of Corfu | The UNESCO-listed Old Town of Corfu is a maze of narrow streets filled with Venetian-style buildings, charming squares, and historical landmarks. | Visit the Liston, a beautiful promenade lined with cafes, and try the local specialty, kumquat liqueur. |
| Paleokastritsa Beach | Paleokastritsa Beach is a stunning coastal area known for its crystal-clear turquoise waters and picturesque cliffs. | Take a boat tour to explore the nearby caves and secluded beaches for a truly unforgettable experience. |
| Achilleion Palace | This majestic neoclassical palace was built for Empress Elisabeth of Austria and boasts stunning gardens and panoramic views of the island. | Don't miss the statue of Achilles in the palace gardens, a symbol of the Greek mythology. |
| Mon Repos Palace | Mon Repos Palace is a beautiful neoclassical building surrounded by lush gardens and overlooking the Ionian Sea. | Take a leisurely stroll in the gardens and enjoy the peaceful atmosphere while learning about the palace's rich history. |
| Pontikonisi Island | Also known as Mouse Island, Pontikonisi is a small islet located near the entrance of the island's main harbor. | Climb up to the Byzantine church of Pantokrator for breathtaking views and snap some postcard-worthy photos. |
Explore the enchanting island of Corfu from your cruise ship and immerse yourself in its rich history, stunning architecture, and natural beauty. Whether you choose to wander through the charming streets of the Old Town, bask in the sun on Paleokastritsa Beach, or admire the grandeur of Achilleion Palace, Corfu offers a plethora of captivating experiences for every traveler. Don't forget to indulge in the local cuisine and savor the delightful flavors of this Greek paradise.
Discover the Enchanting Beauty of Corfu: A Greek Island Gem!
Exploring the Enchanting Island of Corfu from Your Cruise Ship
Corfu, a picturesque Greek island in the Ionian Sea, is a popular port of call for many cruise ships. Known for its stunning natural beauty, rich history, and vibrant culture, this island offers a plethora of exciting activities and attractions for cruise ship passengers to enjoy during their stopover. Whether you prefer to immerse yourself in history, relax on beautiful beaches, or indulge in delicious local cuisine, Corfu has something for everyone.
1. Discover the Old Town's History and Architecture
One of the highlights of visiting Corfu is exploring its charming Old Town. Designated as a UNESCO World Heritage Site, this area is a treasure trove of historical landmarks, narrow cobbled streets, and Venetian-style architecture. Start your adventure at the Liston, a grand esplanade lined with cafes and elegant buildings. From there, wander through the winding alleyways, stumbling upon hidden squares, Byzantine churches, and the iconic Old Fortress. Marvel at the intricate details of the Palace of St. Michael and St. George, which now houses the Museum of Asian Art, and don't miss the chance to visit the awe-inspiring Church of Saint Spyridon, the island's patron saint.
2. Relax on the island's beautiful beaches
Corfu boasts an array of stunning beaches, perfect for those looking to unwind and soak up some sun. From the popular Glyfada Beach, with its soft golden sand and crystal-clear waters, to the secluded Paleokastritsa Beach, nestled among dramatic cliffs, there are options to suit all preferences. For a more lively atmosphere, head to Kontokali or Ipsos Beach, where you can find beach bars, water sports, and vibrant beachfront promenades. Whichever beach you choose, be sure to take a refreshing dip in the azure waters of the Ionian Sea and bask in the island's natural beauty.
3. Indulge in traditional Greek cuisine
A visit to Corfu would not be complete without savoring the island's mouthwatering cuisine. With influences from Italy, Turkey, and Greece, Corfiot food offers a unique blend of flavors and aromas. Don't miss the chance to try local specialties such as Pastitsada, a hearty meat dish with pasta, and Sofrito, tender veal cooked in a white wine sauce. Pair your meal with a glass of local wine or a refreshing glass of Kumquat liqueur, a specialty of the island. Whether you choose to dine in a waterfront taverna or a cozy local eatery, Corfu's culinary offerings are sure to leave you craving more.
4. Explore the island's natural wonders
Corfu is blessed with stunning natural landscapes, waiting to be explored. For nature enthusiasts, a visit to the Corfu Trail is a must. This 220-kilometer long-distance hiking trail takes you through olive groves, lush forests, and traditional villages, offering breathtaking views along the way. Alternatively, you can embark on a boat trip to the nearby island of Paxos and explore its hidden caves and crystal-clear waters. If you prefer a more leisurely experience, take a stroll through the Achilleion Palace's beautiful gardens, adorned with statues and offering panoramic views of the surrounding area.
5. Immerse yourself in local culture
Corfu's rich cultural heritage is evident throughout the island, and there are numerous ways to immerse yourself in its vibrant traditions. Visit the Folklore Museum of Corfu to learn about the island's customs and traditions, or attend a traditional Greek music and dance performance. For art enthusiasts, the Municipal Gallery of Corfu showcases the works of renowned local and international artists. Additionally, make sure to explore the local markets, where you can find handmade crafts, olive oil, and other local products as souvenirs to take home.
Corfu, with its captivating history, stunning scenery, and warm hospitality, offers a myriad of opportunities for cruise ship passengers to create unforgettable memories. Whether you choose to delve into the island's rich history and architecture, relax on its beautiful beaches, indulge in its delicious cuisine, explore its natural wonders, or immerse yourself in its vibrant culture, Corfu is sure to leave a lasting impression on all who visit.
Things to do in Corfu, Greece from a cruise ship:
Explore the Old Town of Corfu: Wander through the narrow streets, visit historic landmarks, and soak in the Venetian influence.
Visit Achilleion Palace: Discover the stunning neoclassical palace built by Empress Elisabeth of Austria and enjoy its beautiful gardens and panoramic views.
Relax at Paleokastritsa Beach: Spend a day at one of the most picturesque beaches in Corfu, known for its crystal-clear waters and scenic surroundings.
Take a boat trip to the Blue Eye Cave: Embark on a boat tour to explore this enchanting cave with its unique blue lighting effects.
Visit the Monastery of Paleokastritsa: Explore this historic monastery perched on a hilltop and admire its Byzantine architecture and stunning views.
Discover the Achillion Brewery: Enjoy a tour of this local brewery and learn about the traditional beer-making process while tasting their craft beers.
Take a stroll along Liston Promenade: Enjoy the charming atmosphere of this elegant promenade lined with cafes, restaurants, and shops.
Visit the Museum of Asian Art: Explore this unique museum showcasing a vast collection of Asian art and artifacts.
Go on a wine tasting tour: Visit a local winery and sample Corfu's delicious wines, known for their unique flavors.
Take a scenic drive to Mount Pantokrator: Enjoy breathtaking views of the island from the highest peak in Corfu and visit the beautiful Pantokrator Monastery.
Frequently Asked Questions
What are some popular activities to do in Corfu, Greece from a cruise ship?
One popular activity to do in Corfu, Greece from a cruise ship is to explore the Old Town. The Old Town of Corfu is a UNESCO World Heritage Site and is known for its charming streets, historical buildings, and Venetian influence. Visitors can wander through the narrow alleyways, visit the impressive St. Spyridon Church, and admire the beautiful architecture. Another popular activity is to visit the Achilleion Palace. This stunning palace was built in the 19th century for Empress Elisabeth of Austria and offers magnificent views of the surrounding landscape. Visitors can explore the opulent rooms, stroll through the manicured gardens, and learn about the history of the palace. Lastly, taking a boat tour around the island is a great way to see the beautiful coastline and crystal-clear waters of Corfu. Many boat tours offer stops for swimming, snorkeling, and sunbathing, allowing visitors to fully immerse themselves in the beauty of the island.
What are some recommended beaches to visit in Corfu, Greece from a cruise ship?
Corfu is home to numerous beautiful beaches that are worth visiting during your time on the island. One highly recommended beach is Paleokastritsa. Nestled between lush green hills, this beach offers stunning turquoise waters and a peaceful atmosphere. Visitors can relax on the sandy beach, swim in the crystal-clear waters, or rent a boat to explore the nearby caves and secluded coves. Another popular beach is Glyfada Beach. This long stretch of golden sand is surrounded by cliffs and offers excellent facilities, including beach bars, restaurants, and water sports activities. Visitors can enjoy swimming, sunbathing, or trying their hand at activities such as jet skiing and parasailing. Lastly, Kassiopi Beach is a charming pebble beach located in a picturesque fishing village. The beach is known for its clear waters and tranquil setting, making it a great choice for those seeking a quieter beach experience.
What are some must-visit historical sites in Corfu, Greece from a cruise ship?
Corfu is rich in history and boasts several must-visit historical sites. One such site is the Old Fortress. Located in the heart of Corfu Town, this fortress offers panoramic views of the city and the sea. Visitors can explore the fortress walls, visit the Church of St. George, and learn about the fortress's role in defending the island throughout history. Another important historical site is the Mon Repos Palace. This neoclassical palace was built in the 19th century and served as a summer residence for the Greek royal family. Visitors can take a stroll through the palace's beautiful gardens, visit the small museum inside, and learn about its fascinating history. Lastly, the Achilleion Palace, mentioned earlier, is not only a stunning palace but also a historical site. Built in the 19th century, it is adorned with statues and artwork depicting scenes from Greek mythology. Visitors can explore the palace's grand rooms and learn about its connection to Empress Elisabeth of Austria.