Discover the Vibrant April Delights of Bermuda: Immerse yourself in the captivating beauty and endless adventures that await you in Bermuda this April. With its pristine pink sand beaches, turquoise waters, and lush landscapes, this enchanting island paradise is the perfect destination for an unforgettable getaway. Embark on thrilling water sports such as snorkeling, scuba diving, or paddleboarding, and witness the mesmerizing marine life that thrives beneath the surface. Explore the island's rich history and culture by visiting historic landmarks like St. George's, a UNESCO World Heritage Site, or the iconic Royal Naval Dockyard. April also brings fantastic weather, making it an ideal time to indulge in outdoor activities like hiking along breathtaking coastal trails or playing a round of golf on world-class courses. Don't miss the chance to witness the awe-inspiring Bermuda Kite Festival or indulge in the island's delectable cuisine at local eateries. Whether you seek relaxation, adventure, or cultural immersion, Bermuda in April offers an enticing array of experiences that will leave you spellbound. Book your escape now and create unforgettable memories in this tropical paradise.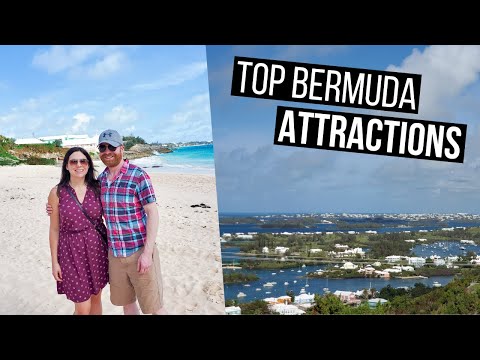 What to Do in Bermuda in April
| Activity | Description |
| --- | --- |
| Explore Crystal Caves | Discover the mesmerizing underground world of Bermuda's Crystal Caves. Marvel at the stunning stalactites and stalagmites that have formed over thousands of years in this natural wonder. |
| Visit Horseshoe Bay Beach | Enjoy the pristine pink sand beaches of Horseshoe Bay. Take a leisurely stroll along the shore, cool off in the turquoise waters, or simply relax under the shade of a palm tree and soak up the breathtaking views. |
| Explore the Royal Naval Dockyard | Step back in time and explore the historic Royal Naval Dockyard. Visit the National Museum of Bermuda, explore the fortifications, or indulge in shopping and dining at the various shops and restaurants in the area. |
| Snorkel at Tobacco Bay | Dive into the crystal-clear waters of Tobacco Bay and discover a vibrant underwater world. Snorkel among colorful coral reefs and swim alongside tropical fish, turtles, and even the occasional stingray. |
| Take a Bermuda Triangle Tour | Embark on a thrilling Bermuda Triangle tour and uncover the mysteries surrounding this infamous area. Hear captivating stories and legends while sailing through the triangle's waters, known for their history of disappearances. |
| Visit the Botanical Gardens | Escape to the peaceful oasis of Bermuda's Botanical Gardens. Immerse yourself in the beauty of the lush flora and fauna, explore the various themed gardens, and unwind in the tranquility of nature. |
As an expert in Bermuda tourism, I highly recommend taking advantage of these exciting activities and experiences available in April. Whether you're an adventure seeker, a nature lover, or a history enthusiast, Bermuda offers something for everyone. Don't miss out on the opportunity to explore the island's breathtaking caves, relax on its world-renowned pink sand beaches, or delve into its intriguing maritime history. With its pleasant April weather, now is the perfect time to visit Bermuda and create unforgettable memories.
"Bermuda's Must-Do List: Unmissable Attractions and Activities!"
The Ultimate Guide to Exploring Bermuda in April
Bermuda, a stunning island paradise in the Atlantic Ocean, is a perfect destination to visit in April. With its warm weather, crystal-clear waters, and vibrant culture, there is no shortage of activities to enjoy during your stay. Whether you're a nature lover, history buff, or simply seeking relaxation, Bermuda has something for everyone. Here are five compelling reasons why April is the perfect time to visit Bermuda:
1. Beach Bliss:
One of the main attractions of Bermuda is its breathtaking beaches, and April offers the ideal weather to enjoy them. The temperature is warm, ranging from the mid-70s to low 80s Fahrenheit, making it comfortable for sunbathing and swimming. The water is also pleasantly warm, perfect for snorkeling and exploring the vibrant marine life beneath the surface. Some of the must-visit beaches in Bermuda include Horseshoe Bay, Elbow Beach, and Warwick Long Bay, where you can relax, soak up the sun, and rejuvenate amidst the picturesque surroundings.
2. Explore Historic Sites:
Bermuda is rich in history, and there are numerous historic sites to explore on the island. In April, the weather is pleasant enough to wander around and discover the fascinating stories behind these landmarks. Visit the UNESCO World Heritage Site of St. George's, the oldest continuously inhabited English town in the Americas, and explore its cobblestone streets and colonial architecture. Don't miss Fort St. Catherine, a 17th-century fort that offers breathtaking views and a glimpse into Bermuda's military past. The Royal Naval Dockyard is another must-visit, where you can learn about Bermuda's maritime heritage and explore museums, shops, and restaurants.
3. Embrace Nature:
Bermuda is a haven for nature lovers, and April is the perfect time to immerse yourself in its natural beauty. Take a hike along the Bermuda Railway Trail, a scenic path that offers stunning views of the island's coastline. Explore the Crystal and Fantasy Caves, where you can marvel at the incredible underground formations and crystal-clear waters. For bird enthusiasts, visit the Spittal Pond Nature Reserve, home to a variety of migratory birds and other wildlife. Don't forget to take a boat tour and witness the awe-inspiring beauty of Bermuda's coral reefs and marine life.
4. Indulge in Culinary Delights:
Bermuda offers a diverse and vibrant culinary scene, and April is the perfect time to indulge in the island's delectable delights. Sample traditional Bermudian dishes such as fish chowder, fish sandwiches, and Bermuda onions. Don't miss out on trying the island's signature drink, the Dark 'n Stormy, made with Gosling's Black Seal Rum and ginger beer. Explore the local markets and restaurants, where you can savor fresh seafood, tropical fruits, and international cuisines. From casual beachside eateries to fine dining establishments, Bermuda offers a wide range of culinary experiences to satisfy every palate.
5. Celebrate Bermuda Day:
April brings one of Bermuda's most celebrated events – Bermuda Day. This public holiday marks the official start of summer and is filled with parades, music, and cultural festivities. Join the locals as they showcase their vibrant traditions, including Gombey dancing, traditional music performances, and colorful floats. Immerse yourself in the lively atmosphere and experience the genuine hospitality of the Bermudian people. Don't forget to sample the local street food and enjoy the festivities that make Bermuda Day an unforgettable experience.
In conclusion, April is an ideal time to visit Bermuda, offering perfect weather, a wide range of activities, and cultural celebrations. Whether you're seeking relaxation on pristine beaches, exploring historic sites, immersing yourself in nature, indulging in delicious cuisine, or joining in the vibrant festivities of Bermuda Day, this stunning island paradise has something to offer for everyone. So pack your bags, book your tickets, and get ready to create unforgettable memories in Bermuda this April!
Things to do in Bermuda in April:
Visit Horseshoe Bay Beach
Explore the Crystal Caves
Take a scenic bike ride along the Railway Trail
Go snorkeling in the vibrant coral reefs
Take a guided tour of the historic town of St. George
Enjoy a round of golf at one of Bermuda's world-class courses
Take a sunset cruise around the island
Visit the Bermuda Aquarium, Museum and Zoo
Go shopping for unique local crafts and souvenirs at the Royal Naval Dockyard
Indulge in the local cuisine and try the famous Bermuda fish chowder
Frequently Asked Questions
What are some popular activities to do in Bermuda in April?
In April, Bermuda offers a variety of activities for visitors to enjoy. One popular activity is exploring the island's beautiful beaches. With the arrival of spring, the weather in Bermuda is warm and pleasant, making it the perfect time to relax on the pink sand beaches and soak up the sun. Another popular activity is snorkeling or diving in the crystal-clear waters surrounding the island. Bermuda is known for its vibrant coral reefs and diverse marine life, providing a unique underwater experience. Additionally, April is the prime time for whale watching in Bermuda. Humpback whales migrate through the waters of Bermuda during this month, and visitors have the opportunity to witness these magnificent creatures in their natural habitat.
What events or festivals are happening in Bermuda in April?
April is a lively month in Bermuda, with several events and festivals taking place. One of the most popular events is the Bermuda Agricultural Exhibition, also known as the Ag Show. This annual event showcases the island's agriculture and features livestock exhibitions, equestrian shows, local food vendors, and live entertainment. Another notable event is the Bermuda Triple Challenge, a three-day obstacle course race that tests participants' physical and mental endurance. The Bermuda Kite Festival is also held in April, where locals and visitors come together to fly colorful kites and enjoy traditional Bermudian food and music. Additionally, April is the month of Bermuda's Good Friday traditions, including kite flying and fish cakes. Visitors can witness these cultural celebrations and experience the local customs.
What is the weather like in Bermuda in April?
In April, Bermuda experiences pleasant weather with temperatures averaging between 70°F (21°C) and 75°F (24°C). The island enjoys plenty of sunshine during this month, with an average of 8 hours of sunshine per day. While the weather is generally warm, it's advisable to pack a light jacket or sweater for cooler evenings. April in Bermuda also marks the end of the rainy season, so visitors can expect minimal rainfall. The water temperature is around 70°F (21°C), making it suitable for swimming and water activities. Overall, April is a great time to visit Bermuda and enjoy outdoor activities without the scorching heat of the summer months.